Cybersecurity risk assessment services
Nova Leah is now offering a hands-on risk assessment solution. Our team of experts will assist in performing risk analyses, risk evaluations and security control identification in line with regulatory expectations. We work hand-in-hand with you, navigating you through this complex process.
Comprehensive review with industry experts.

Risk analysis, evaluation and security control.

Get your products to market quicker.

Maintain security assurances post-market.
Increase in-house efficiency.
Technology Ireland Awards | Ibec

Emerging Company of the Year -2019
High Potential Exporter Award

Export Industry Awards  Winner 2019
KTI Impact Awards 2019

Spin-out Company Award Winner 2019
Accelerate the risk assessment process
Our services solution is backed by 
SelectEvidence®, which allows manufacturers of connected medical devices to automate the process of conducting premarket and postmarket cybersecurity risk assessments for entire product portfolios.
SelectEvidence® breakdown:
Risk assessment platform.

sBoM ingestion.

Continuous vulnerability monitoring.

Automated MDF2 generation.

Risk analysis decision support.

Threat modelling.

FDA premarket and postmarket cybersecurity compliance.
Managed risk assessment services
Cybersecurity risk assessment packages
One time assessment report
Our team of experts will assist in performing risk analyses, risk evaluations and security control identification in line with regulatory expectations. This is a short-term engagement, typically one-time assessment of one product. 
Risk assessment setup and handover
Our team take you through the initial cybersecurity risk assessment process before setting you up with a SelectEvidence® license. Package includes one-time risk assessment and ongoing monitoring via the SelectEvidence® platform. 
Ongoing risk assessment support
Once initial risk assessment is carried out and your team is set up with SelectEvidence®, we remain on board as a dedicated partner.  This includes monthly consultations and ongoing support with your risk assessment activities.  
Anita Finnegan

CEO/Founder
Anita founded Nova Leah and is the Author and International Project Leader of IEC 80001-2-8 and IEC 80001-2-9. As an ...internationally recognized expert in Medical Device Cybersecurity she also has a strong background in software quality processes, engineering and quality engineering roles across multiple highly regulated domains. Anita's PhD research focused on medical device cybersecurity assurance cases.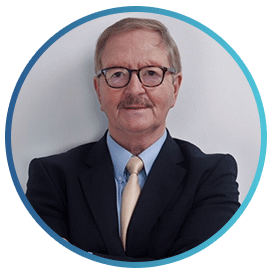 Peter brings over 30 years' experience in the global healthcare and pharmaceutical business to Nova Leah. Peters expertise ...culminated over 28 years of senior management leadership.
Fergal McCaffery

Co-founder / Head of Engineering
Fergal is internationally recognized for his contributions to medical device software engineering. His research team ...have led the development of 4 International Standards/Technical reports for medical device software. He was also the Leader for the development of IEC/TR 80002-3 for medical device software processes in collaboration with the ISO/IEC 62304 development team. Fergal is also Senior Lecturer in the Department of Computing and Mathematics, in Dundalk Institute of Technology (DkIT).