Cybersecurity risk assessment services - Silver package
Within our Silver package, our team of industry experts perform a comprehensive risk assessment of your connected medical devices. Once completed, you then gain access to SelectEvidence® for ongoing support. 
Cybersecurity risk assessment.
All features included in the Bronze package.
Ongoing engagement.
SelectEvidence® license.
Tech support.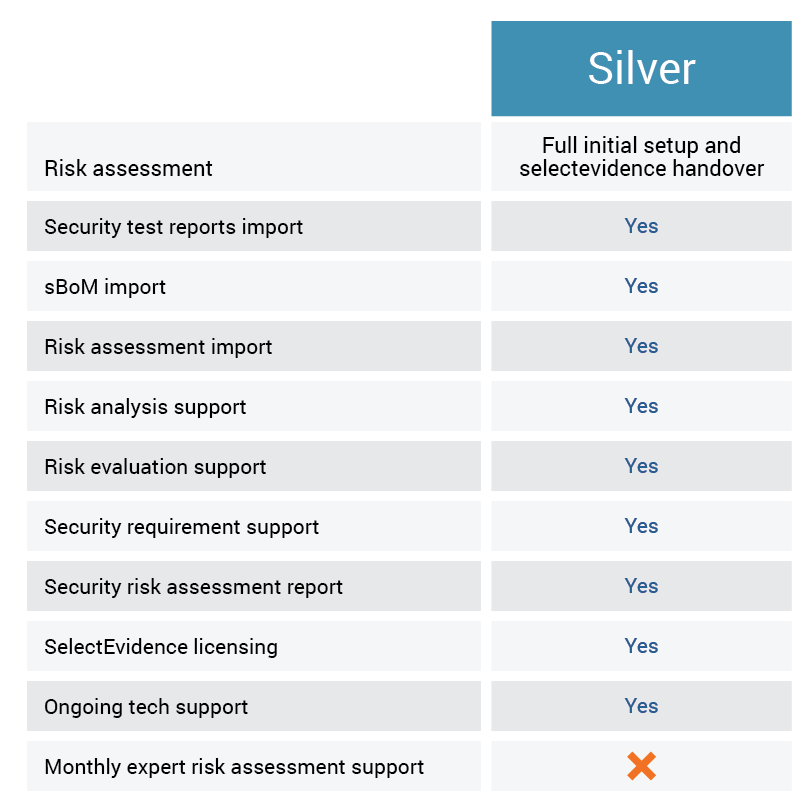 "A specialist in cybersecurity for medical devices"
"A specialist in cybersecurity for medical devices, its platform SelectEvidence® helps medical device providers to monitor defibrillators, pacemakers and insulin pumps connected to wireless networks, to ensure they are safe and can deal with potential threats."
WIRED Magazine, Listing Europe's 100 Hottest Startups 2019
Your expert cybersecurity risk assessment partner
Industry leading expertise
By choosing Nova Leah to carry out your cybersecurity risk assessment you are leveraging the skills and expertise of one of the most experienced medical device cybersecurity teams in the industry.  This also removes the need to hire FTEs.
Get products to market faster and more effectively
Our team of experts will assist you in performing risk analyses, risk evaluations and security control identification in line with regulatory expectations. We have the expertise and knowledge of the regulatory landscape to get your products to market quicker and maintain the security assurance of devices during postmarket
Meeting FDA guidelines
Our cybersecurity risk assessment process is backed by our in-house solution, SelectEvidence®. Using SelectEvidence® as an integral part of our
cybersecurity risk assessment process will ensure that your
connected medical devices meet FDA premarket submission
and postmarket management guidelines.
Increase in-house efficiency
Carrying out device risk assessment in-house can be labour-intensive and resource heavy. By leveraging Nova Leah's skills, expertise and technology you not only get device risk assessment done efficiently but free up staff to work on other projects.
SelectEvidence® license
SelectEvidence® is an expert cybersecurity risk assessment platform that guides medical device manufacturers through the processes of identifying applicable threats to their products and implementing the right security controls to mitigate those threats. A SelectEvidence® license is included as part of the Silver and Gold packages. 
Technology Ireland Awards | Ibec

Emerging Company of the Year -2019
High Potential Exporter Award

Export Industry Awards  Winner 2019
KTI Impact Awards 2019

Spin-out Company Award Winner 2019
Step 1: Comprehensive review
Our team performs a comprehensive review of your existing product security related documentation and discuss the project scope with relevant stakeholders. 
Step 2: Outline project plan
Mapped to your own success criteria
We develop a plan that outlines the objectives and deliverables of the project. This includes performing the preliminary risk assessment. 
Step 3: Assessment and reporting 
Licensing and technical support
The team at Nova Leah perform a full risk assessment in line with TIR57 and ISO 14971. You are then given a license for SelectEvidence® along with expert tech support.
If you are interested in finding out more about our Silver package including prices, time-frames and processes, please fill in the form below and one of our team will be in touch shortly.  
Cybersecurity risk assessment packages
One time assessment report
Our team of experts will assist in performing risk analyses, risk evaluations and security control identification in line with regulatory expectations. This is a short-term engagement, typically one-time assessment of one product. 
Risk assessment setup and handover
Our team take you through the initial cybersecurity risk assessment process before setting you up with a SelectEvidence® license. Package includes one-time risk assessment and ongoing monitoring via the SelectEvidence® platform. 
Ongoing risk assessment support
Once initial risk assessment is carried out and your team is set up with SelectEvidence®, we remain on board as a dedicated partner.  This includes monthly consultations and ongoing support with your risk assessment activities.