Anita Finnegan is the Founder and CEO of Nova Leah. She is a global expert in cybersecurity for medical devices. Anita has authored two internationally regulated industry standards for medical equipment – ISO/IEC 80001-2-8 ​and ISO/IEC 80001-2-8. As a global cybersecurity authority, Anita acts as an advisor to the Science Foundation of Ireland and Lero – the Irish Software Engineering Research Centre. Nova Leah has operations in Ireland and the US.
Through her work with Nova Leah, Finnegan has won multiple awards for innovation, security and technological impact​. Nova Leah was named Emerging Company of Year at the 2019 Technology Ireland Awards in association with Ibec and was shortlisted by Digital Europe for the European 'Future Unicorn Award' in 2020. Nova Leah was featured in WIRED Magazine as one of 'Europe's 100 Hottest Startups' and Finnegan was listed in '50 Female Entrepreneurs Everyone Should Know' by Crunchbase. 
Fergal McCaffery

Nova Leah
Fergal McCaffery is internationally recognised for his contributions to medical device software engineering. His research team has led the development of 4 International Standards/Technical reports for medical device software. He was also the Lead for the development of IEC/TR 80002-3 for medical device software processes in collaboration with the ISO/IEC 62304 development team. He was recently appointed the first Professor of Computer Science at Dundalk Institute of Technology.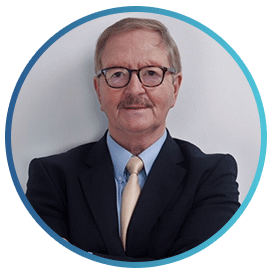 Peter Finnegan brings over 30 years' experience in the global healthcare and pharmaceutical business to Nova Leah. Peters expertise culminated in over 28 years of senior management leadership with Abbot, a world-leading medical devices and healthcare organisation.
Barry Downes

Sure Valley Ventures
Barry Downes is the CIO of Sure Ventures PLC and Managing Partner of Suir Valley Ventures. Barry is also Chairman of TSSG (previous CEO), a leading technology Research Institute, Incubator and Accelerator which has raised over €90 million to date. Downes previously founded FeedHenry Limited, a mobile cloud software technology company that was acquired in 2014 by RedHat Inc (NYSE:RHT). Barry has worked extensively in Silicon Valley as a Partner of SVG Partners, a San Francisco based investment and advisory firm that helps its clients with innovation, strategy and technology consulting. Barry holds an MBA from Smurfit Business School UCD, a BSc in Applied Computing from WIT and has executive qualifications from Haas School of Business at the University of California Berkeley (in Venture Capital), Henley Business School and also Harvard Law School. Barry is also a Certified Investment Fund Director (CIFD) from the Institute of Banking.